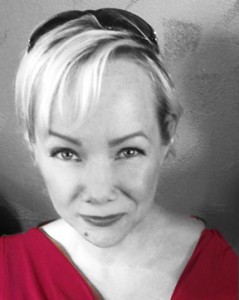 Nansi Kivisto, BFA
As an award-winning photographer, Nansi's artistic vision is to create a sense of wonder for the viewer. Her photography arouses the imagination and her manipulation of vistas and landscapes challenges conventional methodologies and evokes a range of emotions.
Numerous prominent individual and businesses such as the Hyatt Vancouver, L'Hermitage Luxury hotel in Vancouver, several law offices and many other corporate and residential clients collect her photographs.
Nansi's artistic creativity emerged at a young age and her style and vision continued to evolve as she successfully completed the Bachelor of Fine Arts program at the Emily Carr Institute of Art and Design in 2001.
Her photography has been displayed at Art Works Gallery since 2004 and she continues to be one of their featured artists.   And at the Surrey Art Gallery Associations art rental department at: http://www.surreyartgalleryassociation.org/
EDUCATION
EMILY CARR INSTITUTE OF ART & DESIGN Vancouver, BC
Bachelor of Fine Arts Degree 1997 – 2001
Awards
2006 – Surrey Art Gallery – Photography competition – 2nd place winner "The Wall Centre"
2005 – Surrey Art Gallery – Photography competition – Honorable Mention "U of T meets English Bay"

Collections/Commissions
➢ L'Hermitage Hotel (157 photographs)
➢ Insurance Corporation of BC
➢ Jenkins Marzban Logan Law Office
➢ Whitelaw Twining Law Office
➢ Tri-City School Board Commission
➢ WRL Real Estate Advisors
➢ Hyatt Regency Hotel
➢ Argyle Residence (UBC)
➢ Korn/Ferry International
➢ The Cadilac Fairview Corporation
➢ Marubeni Itochu Steel Canada
Donations
➢ 2009 – Splash 2009 Art Auction – Arts Umbrella (Children's Art School) Vancouver
➢ 2009 – Women in Film & TV Auction 20th Anniversary – Vancouver
➢ 2008 – Splash 2008 Art Auction – Arts Umbrella (Children's Art School) Vancouver
➢ 2007 – Art for Life – Four Seasons Hotel Vancouver
Group Exhibits:
➢ 2015 – Arts Council of Surrey "Just Doors" Juried Art Show
➢ 2015 – Surrey Art Gallery – SAGA Art Rentals & Sales
➢ 2013 – Kariton Art Gallery, Group Show – Abbotsford
➢ 2012 – Art Works Gallery "Photography 2012" – Vancouver
➢ 2012 – Layer Upon Layer – University Women's Club, Hycroft Mansion
➢ 2011 – Photo Art Exhibit & Sale, Scandinavian Cultural Centre
➢ 2010 – Art Works Gallery " Click Show Two" Vancouver
➢ 2009 – Pendulum Gallery "Splash" Art Display – Vancouver
➢ 2009 – Nordic Art Exhibit & Sale – Scandinavian Cultural Centre – Burnaby
➢ 2008 – Pendulum Gallery "Splash" Art Display – Vancouver
➢ 2007 – Art Works Gallery "Beyond the Image" Vancouver
➢ 2007 – Queen Elizabeth Theatre "West Coast Women's Exhibit -Vancouver
➢ 2007 – Design North West – Convention Centre – Vancouver
➢ 2006 – Pacific National Exhibition (PNE) Prize Home – Vancouver
➢ 2006 – Terry Fox Library "Meanderings" – Coquitlam
➢ 2006 – Art Works Gallery "Surviving, Thriving, Growing – Vancouver
➢ 2006 – Cityscape Gallery "Broken Values" – North Vancouver
➢ 2006 – Candela – Group Show – North Vancouver
➢ 2006 – Art Works Gallery "First Impressions" Vancouver
➢ 2005 – Orpheum Theatre Group Show – Vancouver
➢ 2005 – Surrey Art Gallery / Art Council of Surrey "Arts 2005"
➢ 2005 – Exposure Gallery "A Picture Show" Vancouver
➢ 2005 – Emily Carr 80th Anniversary "Evolution" Alumni Exhibit – Vancouver
➢ 2004 – Art Works Gallery "Click" – Vancouver
➢ 2004 – Alliance Francaise "100 Years of Vancouver" – Vancouver
➢ 2003 – Cityscape Gallery "Nature and Humanity"- North Vancouver
➢ 2002 – CBC/Radio Canada – Photo Club Vancouver Group Show
Individual Exhibits:
➢ 2006 – Vancouver International Airport Display –Architectural Photos
➢ 2005 – Queen Elizabeth Theatre "Dichotomies" – 24 Double Exposures